Yesterday, I started my journey to better health on my Stamina 36 inch rebounder. I actually bought the least expensive rebounder that I could find. I still think it has been a great purchase. There are better quality ones out there, but I am enjoying the fact that I didn't spend a lot to get my bounce on!  Check it out by clicking on the picture.
Honestly, I had a ton of fun.  I put on my favorite leggings, cranked up Survivor's Eye of the Tiger and got to jumping!  I decided to use light weights with my exercise to maximize the benefit.  This helped to really stimulate my lymphatic system.  After two workouts yesterday, my legs were sore!  My arms and core were sore.  Not immensely, but somewhat. During the workout, I was surprised by this because I didn't feel like I was working out too hard at all.
Surprising Benefits from the Rebounding Workout:
I slept really well at night.
My mood improved considerably after being on the rebounder for just a few minutes.
My concentration and focus was much better for a few hours after rebounding.
My throat seemed to be a bit sore in the morning.  This seemed more like a cleansing reaction than the initial symptoms of a cold because after a few minutes the throat improved and that symptom is no longer there.
I worked up a sweat really quickly.  Sweating helps to eliminate toxins.
As you can see, even though I haven't been rebounding for a long period of time, I was able to experience some wonderful rebounder workout benefits.  There are plenty of fun workouts on youtube that you can emulate if you get bored with just bouncing.  Here is one of my favorite rebound workouts to do.  It is great for beginners and only 15 minutes.
My Favorite Online Rebounding Workout
For longer workouts, you may want to purchase one from Amazon.  Here are some cool rebounder workouts to check out.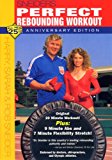 Get your jump on!  Better yet, commit to a daily routine of rebounding!