Fit Over 40 Review
Name: Fit Over 40
Website: FitOver40asap.com


Price: $39.95
Owners: Brett Yokley
Overall Rank: 65 out of 100
Fit Over 40, Product Overview
Fit Over 40 is an online course to help people who are over the age of 40 slim down quickly. Brett Yokley is a personal trainer and he focuses on diet and exercise. Rather than cardio exercise, he prescribes weight training exercises to build muscle.
Brett Yokley makes recommendations for supplementation that he feels is essential and unique to people who are over forty years of age. As we age, our hormones and metabolism does change, so it can be worthwhile to take a look at the nutrients that you are getting.
Finally, Brett gives you a simple diet plan to follow. He says that it works every time. This is delievered to you throug a manual in a PDF format. He claims that with a simple 60/40 rule, you will have sustained energy all day long and you won't feel hungry.
The Good & the Bad
The Good:
PRO #1: Solid recommendations for exercising focusing more on weight training than
on cardiovascular exercise.
PRO #2: Eight customizable workouts that are geared towards fat loss.
PRO #3: You are taught how to easily incorporate these workouts into your daily life. This means that you are more likely to do them!
The Bad:
CON #1: Supplements are not necessary to lose weight. However, this program recommends five essential supplements and a schedule of when to take them during the day.
CON #2: The dietary recommendations are sub-par. If you are not going to cut carbohydrates, you are going to continually have inflammation in your body. The dietary recommendations are based on calories and do not eliminate carbohydrates.
Who is Fit Over 40 for?
Fit over 40 is designed for the person who is over forty who just wants to slim down. This program is not designed well for anyone over 40 who has a metabolic disorder, epilepsy, or a psychiatric condition. The recommended diet in this program is based on a calories in and calories out approach. This could be detrimental to anyone who has a pre-existing or inflammatory condition.
Fit Over 40 Tools & Training
You'll receive a digital manual that gives you information on what diet to follow, what supplements to take and what exercises to do. The instructions will come to your email inbox and be in a PDF format.
Fit Over 40 Support
With this product, you will receive email support. The support for this product is at – support@fitover40asap.com
Fit Over 40 Price
The cost of this program is $39.95. This program comes with a sixty day money back guarantee if you don't see results. Therefore, there is no risk to you as a consumer.
The program does come with a bunch of bonuses that may make it worth the price! The first bonus is Healthy Eating Cookbook Special by Canadian Living. This ebook contains over 125 good for you recipes that are healthy and delicious. They are also super effective at fat loss.
The second bonus is the Science of Staying Young by Scientific American. This is a 14.95 value. You will discover firsthand reports from leading researchers. It is jam packed with in depth reports on how to slow down the aging process.
The third bonus that is included is the Top 10 Exercises for Beating Back Pain by Dr. Tom Meehan. This ebook is a $19.99 value!
The fourth free bonus that comes with your order is the Complete Body Detox Guide to Better Health.  This is a complete guide on how to eliminate harmful toxins from your body. It is a 76 page ebook. It will help you clean, clear, and cleanse your system!
The fifth free bonus gift is "Downshifting" How to Work Less and Enjoy Life More. This book by John D. Drake, Ph.D. This ebook demonstrates to readers how to resist pressure and actually spend less time in the office! John Drake examines the frantic pace of today's business environment, and assists readers in overcoming the fear of working less. He also shows them how to make that change. Dr. Drake uses real-life examples to provide practical strategies for freeing up personal time.
The sixth free bonus you'll receive is "Bally's Total Fitness" health eBook, which is valued at $8.95! This ebook gives information on portion control and eliminating workout excuses!
And your last free bonus is "Time Management with Exercise" that is workth $12.95! This is a workbook that will show you step-by-step how to systematically map out the most efficient use of your time when you exercise.
My Final Opinion of Fit Over 40
As someone who has been a personal trainer and studied the different fad diets over the years, I am giving this program a thumbs down. While the exercises may be great and the diet may lead you to weight loss, it won't do anything in the way of improving health conditions. The ketogenic diet is an anti-inflammatory diet that will reduce your weight and put you on the road to better health.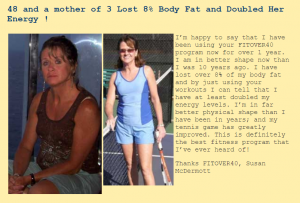 Fit Over 40 at a Glance…
Name: Fit Over 40
Website: fitover40asap.com
Owners: Bretty Yokley
Price: $39.95
Overall Scam Rank: 65 out of 100
VERDICT: NOT LEGIT
Don't buy it. Check out the FREE Keto Bacon and Butter cookbook to get yourself on the way to better health! The ketogenic diet has been proven to help eliminate neurological conditions, stabilize your weight, reduce hunger and prevent Alzheimer's. If you are going to start a diet for your health, this is the diet to go with!