One of my absolute favorite breakfast meals is a crustless quiche. I love a great quiche and with this recipe, I barely notice that there is no crust because it is so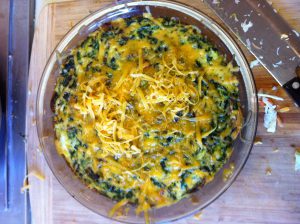 flavorful. The other thing that I love about this spinach mushroom quiche is that I can transform the frozen spinach from something gross into something totally delicious. It amazes me each time. (Without some additions, I think frozen spinach is disgusting.)
The other great thing about this recipe is that you can make it ahead. It stores in the refrigerator for 2-3 days, so you can get extra mileage out of your efforts. I know that some people are not fans of leftovers, but for me they are timesavers.  I like to make this on a Sunday when I have plenty of time and put a few extra servings in tupperware containers for the next few breakfasts. It keeps me on time and on track with my ketogenic eating plan!
Ingredients:
16 oz. chopped frozen spinach
5-6 mushrooms, sliced
1/2 medium sized onion
olive oil
salt and pepper
1 sausage (optional, for flavor)
1 cup grated cheddar cheese
7 eggs (medium or large)
Directions:
Preheat oven to 350.
Heat a cast iron skillet to high or medium high. Add 1-2 tablespoons of olive oil. Add the frozen spinach. Chop up the sausage into a small dice and place into the pan with the spinach. While the frozen spinach is thawing out on one side in the pan, focus your efforts on chopping up the onion and mushrooms. Once you have diced the onion and sliced the mushrooms, flip o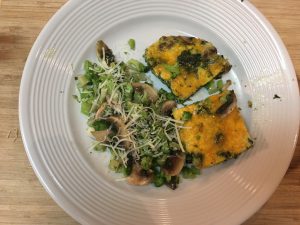 ver the brick of frozen spinach to allow for it to thaw out on the other side. Add the mushrooms and onions to the olive oil. Stir. Let cook for 2-3 minutes. You will want to break up the frozen spinach. Add salt an
d pepper.
As the onions, mushrooms and spinach are cooking, grate the cheese and break the eggs into a bowl. Whisk half of the grated cheese with the eggs. Turn the heat off and remove the skillet from the burner. Place on a hot pad so you don't burn your counter. Pour the egg and cheese mixture into the cast iron skillet and gently stir to mix up the ingredients. Top the eggs and veggies with more cheese.
Place the cast iron skillet into the preheated oven for 20 minutes. Most of the ingredients have been half way cooked at this point, so it is just a matter of cooking the eggs and allowing the flavors to blend together.
Enjoy!