Today, I want to share with you some of the tips and tricks I use to get my quick and easy keto meals prepared in under fifteen minutes. The ketogenic diet can be quite challenging when you first start it. What can I eat? Should I attempt that high fat pizza crust and flourless cake? Should I create my own meal plan or follow someone else's ketogenic meal plan? How in the world am I going to stick to this diet?!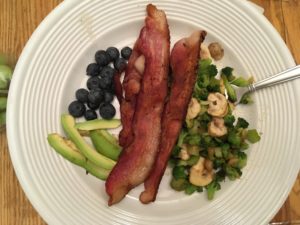 I've created some guidelines to creating quick and easy keto meals that you will enjoy. You should also check out the Bacon and Butter free keto cookbook. 
You want to become very familiar and comfortable with foods that you are able to freely eat. These are going to be your fats, proteins and leafy greens. Once you master some recipes with these, you are going to start combining them with different side dishes.
Get comfortable eating vegetables in salads, stir-fries and steamed. This is the fastest way to prepare the vegetables. It is much easier to make meals with a salad than it is to try and turn your vegetables into something that resembles your favorite gluten based, high carbohydrate food. You'll also feel disappointed with the results when you compare it to your favorite pizza.
Focus on getting a protein, low carb vegetable and some fats in each meal. You don't have to go overboard on the protein. Just open up a can of wild caught salmon or tuna and scoop out a portion over a salad. 
Keep snacks chopped and handy. I enjoy sliced cucumbers, olives, carrots and celery. The snacks are quick, easy, can be prepared ahead of time and kept in the refrigerator for about 3 days. You can dip them in cream cheese dips for extra flavor and fats.
Chop up a big tossed salad. It will keep in the refrigerator for about 3 days, but don't include ingredients that are watery or spoil easily. Keep the tomatoes and the avocados out until you are ready to eat the salad. You can quickly grab a main dish salad for lunch and you can use it as a side salad during dinner. Just add a different protein and a different dressing to keep your taste buds interested.
Never fear, frozen broccoli is here! I was hesitant to use frozen foods until I discovered that sometimes they contain more nutrients than fresh food because of the way they are frozen right when they are harvested instead of transported later. To keep my side dishes quick and easy, I often opt for chopped frozen broccoli, add in mushrooms for fun and cook it in olive oil. This cuts out the washing and chopping and makes keto meal prep quick and easy! I also use frozen spinach in my crustless quiche because it is inexpensive.
Follow other people's blogs and dinner ideas. Sometimes half the battle is coming up with your own creative ideas for dinner.
Keeping your ketogenic meals quick and easy means that you are going to become adept at using up your left over main dishes the next day in your meals. This is not as bad as it sounds. All you have to do is add a different side dish to it. If the meat is a little dried out, you can reheat it in a pan in some olive oil.
Breakfast won't always be a new dish, but it will often be a different protein paired with a similar side dish, as you can see in the above shot I had broccoli with bacon and here I have broccoli with sausage. Both of them can taste wonderful and they only take 15 minutes to make.
Make use of the convenience of a power pressure cooker. This is a serious time saver. It does mean that you are planning ahead for your meals, but I make pot roasts and a ketogenic chili in the power pressure cooker. The prep time is minimal. All you have to do is season the meat, chop the veggies that you want to use and turn the knob. I've included a link to the power pressure cooker in case you want to check it out on Amazon. I've heard good things about the Instant Pot as well.
Don't sweat it if canned veggies are what you have time for. It is okay to use canned green beans once in awhile. They aren't a star when it comes to nutrients, but a serving of them still fits into the ketogenic diet. If you want to make them more special, you can top them with sliced almonds or parmesan cheese.
Hamburgers without the bun are still tasty when you add sauteed mushrooms and onions on top. You just have to get used to cutting your hamburger instead of holding it. As you can see, I used a couple other tricks to make this a quick and easy keto meal, I added a side salad and some green beans. Keep dinner simple and your ketogenic meals will become quick and easy to make.
Smoothies are a great option when you are in a rush. If you use kefir (fermented milk or coconut milk), you can cut the carbohydrate count down on your smoothies and get a probiotic boost. You will want to focus on berry smoothies or a chocolate or vanilla variety. Incorporating high fructose fruits like pineapple or mango will take you out of ketosis. Berries and chocolate can be flavored with a zero carbohydrate flavoring like stevia or swerve. Smoothies only take a few minutes if you have the ingredients handy.
Take advantage of kitchen tools that make creating meals quick! I love my magic bullet for creating whip cream to top off my berry desserts and my steamer to quickly turn boring broccoli or asparagus into a cooked side dish ready to be topped off with parmesan cheese, grassfed butter, hemp hearts, crushed almonds or something fun like that. 
Make sure you have your kitchen stocked with your favorite ketogenic ingredients. One of the worst time killers is looking around for ingredients that you want to use to make into meals.
Don't worry about pairing unusual ingredients together. Your goal is to make the meal quick and easy. To the right, I have wild caught salmon, my frozen
broccoli side dish, some celery and almonds. This was a breakfast meal. While the combination was kind of weird, it was quick and easy to put together. Some of my favorites.
Desserts on the ketogenic diet are going to be more rare and they are going to be simple. Gelatin is very low carbohydrate and I love to make a coconut milk based version of a gelatin dessert. Berries topped with whip cream is another great easy dessert for the ketogenic dieters.