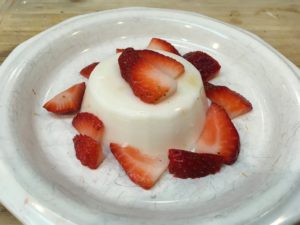 Lemon Panna Cotta is a very easy keto dessert to make. It does not require a lot of time or skill and it can be very impressive. Panna cotta is a cream based gelatin dessert, so if you can make jello, you can make panna cotta! It will impress your friends a lot more and the creaminess will taste a lot better than the artificially flavored jello gelatin.
With only four ingredients and a preparation time of about 10 minutes, lemon panna cotta is a quick keto dessert. It is my go-to keto dessert or snack! Easy to make and very low in carbohydrates.
Ingredients:
1 can coconut milk
2 tablespoons gelatin
2 tablespoons Swerve (or zero carbohydrate sweetener to taste)
Juice of 1 whole lemon
Directions:
In a saucepan, pour in the coconut milk. Turn on to medium heat. As the coconut milk is heating up, add the gelatin and stir with a whisk. Squeeze the lemon juice into the saucepan. Add the 2 tablespoons of zero carbohydrate sweetener. Whisk and bring to a boil. Once boiling, take off heat and divide into 5 dessert dishes. Refrigerate for two hours. Garnish with strawberries or blueberries to keep it keto. Enjoy!
[easyazon_image align="none" height="160″ identifier="B001HTJ2BQ" locale="US" src="https://getfitandhealthyathome.com//wp-content/uploads/2017/09/51kmxzvSzL.SL160.jpg" tag="mcurle08-20″ width="105″]
[easyazon_image align="none" height="160″ identifier="B01LLMUG22″ locale="US" src="https://getfitandhealthyathome.com//wp-content/uploads/2017/09/41RbbVj86WL.SL160-1.jpg" tag="mcurle08-20″ width="107″]
[easyazon_image align="none" height="160″ identifier="B0008D6WBA" locale="US" src="https://getfitandhealthyathome.com//wp-content/uploads/2017/09/41dePBfz2B3L.SL160.jpg" tag="mcurle08-20″ width="68″]