The dietary debate rages online. Many people are adopting extreme vegan diets and others and going complete carnivore. Who is right? Is it better for the planet to eat vegetables or meat? Why should humans eat meat? What does the science behind plant based diets say?
Today, I'm going to share some of my experiences with testing out a raw vegan diet, the ketogenic diet and the carnivore diet. I am a serial dieter and I joke with people that I have tried them all. In reality, I've experimented with quite a few diets. I was sold on being a raw vegan and having that heal my alopecia about 8 years ago. I just knew it would. But it didn't. The scientific research told me it would.
Over the years, I discovered that scientific research is backed by big money. In fact, if "science" tells you that you should be doing something, it is highly likely that you should be doing just the opposite.
Is it better for the environment to eat meat or plants?
This is a question that I have pondered a lot. We hear about how much water it takes to create a pound of beef versus a pound of broccoli, which makes it sound like going for the broccoli would be the best thing for the environment. But think back to 8th grade physical science when you learned about matter. There was a law that went something like this, "Matter can not be created or destroyed. It is only changed." So, while the water is first used to hydrate the plant, once you eat it, it nourishes you and you expel the waste product in urine. That urine gets filtered and is used again to water another plant.
Now, if you apply that cycle to include an animal, you haven't used up the water. It has changed purpose and form a few times, but you haven't used it up. And by the way, who says using water for life is wasting it anyway? So, you have to feed the plants that feed the animal which you end up eating.
One question that should be asked is if the cow provides a benefit to the planet. Raising cows in a factory as is the practice now, is not humane and not sustainable. They do not benefit the environment when they are cooped up in cages and pens. However, when cows are allowed to roam in pastures, they do enrich the soil with their manure and in nature they would be preyed upon by wolves, so the cows would feed the wolves. Manure provides essential nutrients to the topsoil. Many of these nutrients have been depleted or even eliminated with the use of nitrogen fertilizers. So, you see, commercially raised meats and vegetables both are sub par when it comes to nutrition.
We Evolved Eating Meat
The modern, intellectual humans that we know and love today have large brains. We could not have become the humans that we are now without a very nutritional diet. The brain is a nutritionally demanding organ and to grow a big one required eating at least some meat. Meat provides you far more calories with far less effort than a vegetarian diet.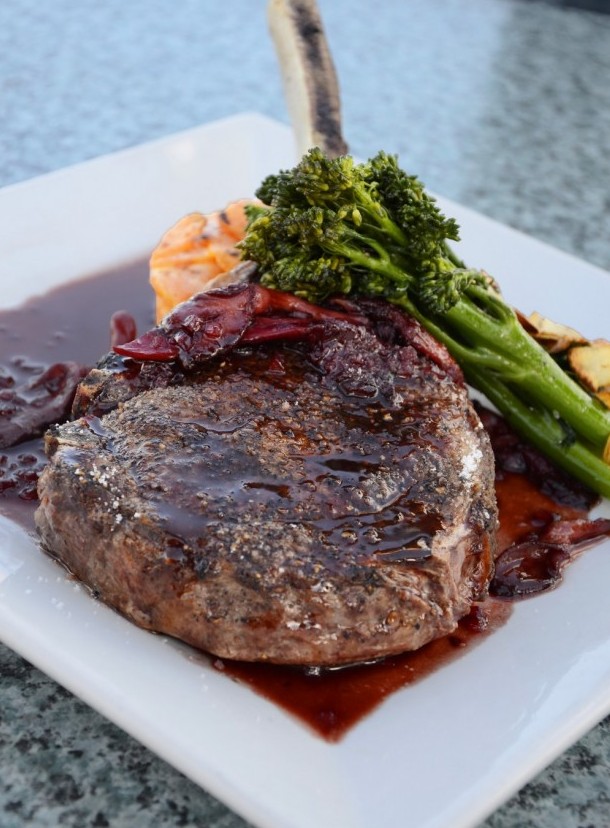 Many people cite that the structure of our canines doesn't resemble that of other carnivorous animals. This could be an evolutionary change as well. Animal muscle meat eaten straight from the carcass does require a lot of ripping and tearing. That calls for sharp teeth with a powerful bite. However, once we learned to process our meat with tools, such as knives and stones, the need for such large teeth diminished. This could have led to other changes including a larger brain, more advanced speech organs and better thermoregulation.
Where do Humans Fit in the Food Chain?
One day, I was listening to my co-teacher instruct the students on the food chain. I noticed that in schools, at least in 7th grade, they don't include the humans in the food chain. Perhaps they don't want to disturb young minds about the thought that another predator will eat them. However, in the food chain there are natural predators. Birds eat insects, bugs and berries. Rabbits eat grass and leaves. Wolves eat the rabbits. There is not politics in the natural food chain. They eat what nature requires them to eat. Animals don't consult a food pyramid or ponder grocery store aisles reading labels. They simply eat what they can.
At some point, you have to accept that death is part of life. For the snake to live, it has to eat the mouse. It doesn't matter that the mouse is a wonderful rodent or how much you love rodents. The snake will eat it to survive. Plants also need things to die and decay in order for the soil to be nourished. Lierre Keith, in the Vegetarian Myth, explains that plants don't want to be eaten and they defend themselves with toxins, or anti-nutrients. Perhaps plant poisons are their way of slowly killing the other animals in order to nourish the soil with decay and bacteria. (I'm not saying that it is, just a point to ponder.)
Nature has a tendency to bring itself back into balance. When there is an overpopulation of predators, some of them die out. As the population of prey increases, the predators suddenly have more food and they start to multiply. In the end, it balances itself out.
So, what happens when one animal's prey isn't available and they still want to survive? They may start to disrupt the food chain and eat another animal's food. The populations will increase and decrease accordingly. However, the animals may not be eating optimal foods designed for their species and develop illnesses and disease more readily.
Humans are actually an apex predator. They do not have many (if any) other predators. They are at the top of the food chain and able to eat meat. Humans also have an adaptation to digest plant matter. However, it is important to note that when plants are eaten, the body doesn't digest plants. It is actually our gut bacteria that breaks it down prior to our body absorbing the nutrients.
The problem that many people are running into today is that the gut microbiome is compromised due to heavy usage of pesticides, such as glyphosate. Without gut bacteria to break down our foods, we are experiencing autoimmune disorders, leaky gut syndrome, irritable bowel syndrome and many other health conditions.
What Does the Science Say?
Vegetarian studies like to demonstrate that humans can survive on vegetables. This is great. Scientific studies encourage people to question their beliefs and gain new insights into the way that the world around them works. Unfortunately, all the nutritional science available is a bit flawed. They often cite that a certain vegetable provides benefits based on studies that are carried out on rats. Humans are not rats. Another problem with the scientific studies is that they are epidemiological studies. There is no good control group where all the variables that could impact someone's life are controlled.
I have yet to find a study that compares a vegetarian diet to a diet of only meat. That would be an interesting study. Some people claim that you can't be a vegan long term. Your body requires vitamin B. Many vegetarians are getting animal protein in the form of eggs and dairy and have discovered great health with just a small amount of animal protein. The question then arises is it the vegetables that are keeping them healthy or the small amount of animal protein.
As a college student taking statistics, I realized that you can create a study and a statistic to support any conclusion that you want to make. You simply have to eliminate certain factors or manipulate some variables. This can be done by including a subgroup of people or manipulating the time frame such that the results you don't want to show up isn't included. So, I would have to say that science is really inconclusive about this one. It is important to note that some of the food science or scientific fraud that was introduced to us in the form of the food pyramid is turning out to be more detrimental to our health than helpful. Following a diet high in refined carbohydrates does not lead you to better health.
Test it Out For Yourself
I've come full circle when it comes to my thoughts about eating meat. When I first wanted to heal from my autoimmune condition, I bought a juicer and a ton of vegetables. I ate raw vegan for months on end. I lost fifteen pounds and looked emaciated. My hair didn't grow. I felt alright, but there was no improvement in my health. After I had a seizure, I gave up on that diet. I continued searching for different ways to heal from my autoimmune disease, alopecia universalis.
My ketogenic experience was great. I really felt good on the ketogenic diet. I had what I felt was a moderate amount of protein from animals and plenty of low carbohydrate vegetables. My health stayed the same. I didn't feel an incredible increase in energy or lose a ton of weight, as some people reported. It didn't cure my epilepsy or alopecia. However, I did feel satiated most of the time. I had no cravings for food.
While I was online a few months ago, I discovered a carnivore diet. You simply eat meat and drink water. The Zero Carb group promotes this way of eating as healthier because you avoid the plant's antinutrients. Even though I was avoiding gluten and processed sugars, my autoimmune condition was sticking around. So, a few weeks ago, I committed to zero carbohydrate. I'm now eating a ton of meat and not much else. I do still have a few berries for breakfast, but I plan to cut them out eventually. My skin feels amazing with the increase in fats and protein in my diet. I have tons of energy and my thinking seems to be a bit more clear.
Why should humans eat meat? It may seem cruel to eat other animals to some. However, it is the easiest way to obtain all the nutrients that sustain life. It is something that we have done throughout the ages to grow our brain. If you test it out, you may discover that you feel better eating meat!