Six Steps To Sleep Review

Name: Six Steps to Sleep
Website: sixstepstosleep.com
Price: $19
Owners: Peter Litchfield
Overall Rank: 85 out of 100
Six Steps to Sleep, Product Overview
This is a combination of audio and an ebook. The ebook offers an in-depth analysis of how to conquer insomnia. He explains the common causes and natural cures to insomnia. The most effective part of this program, in my opinion, is the meditation audios that are included. He uses binaural beats to entrain the brain and help it to relax.
Also included with this online product are a sleep diet guide. While I heavily promote the ketogenic diet, I found his dietary recommendations for better sleep very sound. The sleep diet guide includes multiple meal plan options for a variety during the week.
The bonus that you receive when you order this product is a sleep progress tracker. Tracking your progress is essential to know where you are in comparison to where you want to be. You should be tracking your progress with any goal that you have especially one as important as getting enough sleep every night. The sleep tracker will let you know within the first sixty days whether this product is working for you, or whether you should ask for your refund!
The Good & the Bad
The Good: Price point, step by step guidelines, sleep tracker
PRO #1: This product is instantly available to you once you enter your details. You can start using it right away and when done correctly, you should see improvement within 3 days.
PRO #2: The Six Steps to Sleep gives you very detailed action steps that you can easily incorporate into your life.  You also learn how to fall asleep in a few minutes, how to stop the racing thoughts. You will discover how to eliminate anxiety around bedtime,
PRO #3: Gives you great information regarding diet and how to avoid foods that are disrupting your sleep patterns.
The Bad: Online product,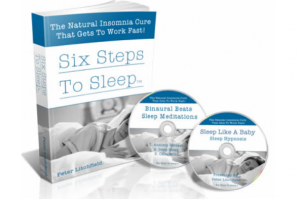 CON #1: It is an online product. You will not receive nothing in the mail.
CON #2: Your results will be dependent on consistently taking the steps that are recommended. It is easy to forget to listen to meditation audios when they aren't CDs that are visually reminding you. You could set a reminder on your phone to listen to the audios.
Who is Six Steps to Sleep for?
This product is great for teens and adults who are suffering from insomnia. It offers common sense, easy to implement techniques to addressing insomnia. It is for the person who wants to change their lifestyle instead of taking medication, which is a quick fix but offen has the downside of side effects.
Six Steps to Sleep Tools & Training
Six Steps to Sleep comes in a digital format. It is an ebook as well as meditation audios. All you need to complete the program is a computer and some headphones to listen to the binaural beats meditation audios.
Six Steps to Sleep Support
Peter LItchfield offers support through his website. You can contact him through his page, http://sixstepstosleep.com/contact
Six Steps to Sleep Price
$19 is a very reasonable, competitive price for what you receive. You receive a guide to resolving your insomnia and audios that put you in a meditative sleepy state. Most binaural beats meditative audios are between $20-30 online, so this is a really good deal. Books on insomnia can be anywhere from $5-25. You get both! 
My Final Opinion of Six Steps to Sleep
The reason that I rated this so high was because it has excellent binaural beats meditation. This special meditation music that uses theta and delta frequencies throughout the recording to relax the mind.
I've used this type of meditation and found it very effective at relaxing me and putting me into a state that was very restful. In fact, I use this type of meditation for self-hypnosis on a regular basis.
I also think this is an excellent product because it has a sleep tracking chart for you and a great money-back guarantee. If you don't make progress, you can ask for your money back! However, between the lifestyle changes and the binaural beats, I'm pretty certain that you will be able to conquer your insomnia!
Six Steps to Sleep at a Glance…
Name: Six Steps to Sleep, The Natural Cure for Insomnia
Website: sixstepstosleep.com
Owners: Peter Litchfield
Price: $19
Overall Scam Rank: 85 out of 100
VERDICT: LEGIT! This is a good product for people who are trying to cure their insomnia.