The ketogenic diet is much easier when you master breakfast! Ketogenic breakfast ideas can be a struggle for people like me who grew up eating cereal and toast for breakfast. You're switching from carbohydrates to fats and proteins and that can be challenging. However, when you start your day out with an awesome, healthy ketogenic breakfast, you are setting yourself up for ketogenic dieting success!
Keto Breakfast
Here are some pictures of the breakfasts that I normally consume. Unlike some Americans, I love breakfast. I never want to skip it. It is quite possibly my favorite meal of the day!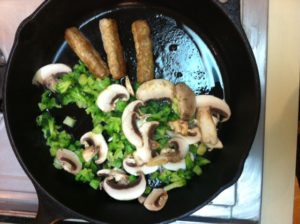 I tend to want to eat more, so I have created the habit of including greens in my morning meal. I usually have frozen broccoli sauteed in olive oil with some mushrooms and seasoned with salt. It is a fast way to get a tasty side dish.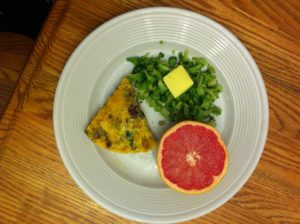 Another favorite of mine is the crustless quiche! I make mine with frozen spinach, egg, mushrooms, onions and season it with salt and pepper. The great thing about the crustless quiche is that you can make it ahead of time and quickly reheat it each morning.
It was so difficult for me to give up my morning fruit, so I have been eating fruits that are lower in carbohydrates such as blueberries, strawberries and occasionally grapefruit.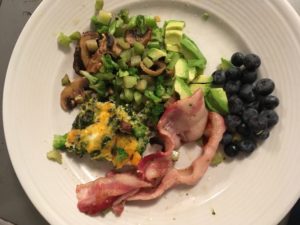 Bacon and avocados are making it onto my plate more and more frequently nowadays. Who doesn't love bacon and avocados have a nice creamy texture that contrasts with the crunchiness of the broccoli.  [easyazon_image align="left" height="500″ identifier="B01MCWWWZH" locale="US" src="https://getfitandhealthyathome.com//wp-content/uploads/2017/09/51lItUPu3bL.jpg" tag="mcurle08-20″ width="333″]
It has been awhile since I have made ketogenic coconut flour pancakes, but they are heavenly!
Some people thrive on smoothies for breakfast. Kefir smoothies made with coconut milk clock in a few more carbohydrates than broccoli, but if you manage your carbohydrates well, you can still stay in ketosis. You'll have to use berries for the smoothie or chocolate and a zero carbohydrate sweetener, but it is possible!
Once you master a few of these keto breakfast ideas, you will start to come up with variations of your own easily and effortlessly! You'll discover that the ketogenic breakfasts will keep you full throughout the morning and as you adapt to ketosis, your need for snacks will decline. You'll just snack for enjoyment!
Recipe for coconut flour pancakes:
2 eggs
2 tablespoons coconut flour
1 tsp vanilla
Mix the eggs, coconut flour and vanilla until blended smoothly. In a skillet on high heat, melt 1 teaspoon coconut oil. Place one tablespoon of the mixture in the skillet. Flip when the edges start to pull away from the pan. (About 30 seconds to 1 minute).
[easyazon_image align="right" height="500″ identifier="1517243769″ locale="US" src="https://getfitandhealthyathome.com//wp-content/uploads/2017/09/51DqhgnfoJL.jpg" tag="mcurle08-20″ width="324″]
If you scroll over the book covers, you can click on the link and get the smoothie and waffle recipe books from Amazon. It is an affiliate link and I may get a few pennies of commission, but that will help me keep this blog going and create more wonderful, informative posts!
Keto Breakfast Ideas
Bacon
Sausage
Steak and Eggs
Eggs
Scrambled Eggs
Omelets
Blueberries
Strawberries
Scrambled Eggs with Salsa
Avocados
Greek yogurt
For more tips to getting onto the Ketogenic diet, check out My Ketogenic Diet Plan Menu