28-Day Keto Challenge Review
Name: 28-Day Keto Challenge


Website: 28dayketo.com
Price: $37
Owners: Keto Resources
Overall Rank: 85 out of 100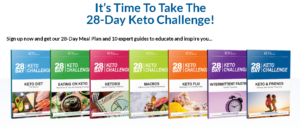 28-Day Keto Challenge, Product Overview
This digital product consists of seven books to help you conquer the ketogenic diet and see results. You'll not only learn the basics and mechanics of the ketogenic diet, but you'll also discover effective ways to tackle the social situations that may make you cave into carbohydrates.
The 28-Day Keto challenge includes:
Keto Diet Basics – This book helps you understand the foundation of the diet.
Eating Well on Keto – You'll get 10 breakfast recipes, 14 lunch recipes and 14 dinner recipes and a 28-day meal planning calendar.
Staying in Ketosis – Discover how to get into ketosis in 3 days and how to know if you're in ketosis.
Mastering Macros – Learn to calculate macronutrients and discover the proper ratios for ketosis.
Beating the Keto Flu – Don't freak out when the "keto flu" hits. Learn how to make it go away.
Intermittent Fasting – Explore 5 different types of intermittent fasting to jump start ketosis and speed up fat loss.
Social Situations – Uncover healthy ways of handling the social eating pressures. Tips for eating out and guidelines for alcohol consumption.
Guilt- Free Desserts – 36 mouth-watering "fat bomb" recipes to satisfy your sweet tooth!
Yummy Avocado Recipes – Delicious and unique ketogenic friendly ways to prepare an avocado.
Keto Supplements Guide – Learn the 12 recommended Keto supplements to transition to ketosis and make the diet more effective.
The Good & the Bad
The Good:
This is a well-structured 28-day program. It is great for the person who is very new to keto and doesn't have a clue what they'll be eating in the morning. Lots of recipes to help you get through the month.
The books are well laid out and easy to understand.
This program helps you to avoid the dreaded Keto flu, which can occur when your body adapts too quickly to a new diet.
Recipes are printable and you can take them with you to the store to buy the ingredients.
60-day Money-back Guarantee.
The Bad:
Recipes don't discourage you from using unhealthy fats, such as margarine.
Focuses on the weight loss aspect of the ketogenic diet and now the health benefits – such as seizure prevention, etc.
It is digital. Many people prefer books.
Who is 28-Day Keto Challenge For?
The 28-day keto challenge is for beginners to the ketogenic diet who are focused on weight loss. It provides them with great recipe options to get started, the tips and tricks necessary to stay on the diet, and ways to avoid the ketogenic flu.
The combination of excellent recipes and a meal planner will help you stay on track. The book on dealing with Social Situations will help you get through those happy hours and networking events where it seems too easy to try the free drinks and food.
While all the information contained in the books can be searched online, it is nice to have it all in one place. Purchasing the program will elevate your commitment to sticking with it for 28 days. Once you have 28 days of the diet under you belt, it becomes easy!
Reasons to try the 28-Day Keto Challenge
Those who have tried the 28-day keto challenge report the following:
Be lighter and thinner… common to lose12+ pounds!
An increase in energy
Better sleep…wake up more rested
Improvement in skin and hair texture
Feel a sense of accomplishment
Who doesn't love eating bacon and eggs for breakfast everyday!
Most importantly…GAIN MOMENTUM with your new Keto lifestyle.
28-Day Keto Challenge Support
The 28-Day Keto Challenge doesn't come with support in the form of a counselor or someone to consult with. However, the resources that you are provided with are fairly comprehensive and you probably won't need it.
28-Day Keto Challenge Price
The cost of the program is reasonable. It is $37, which is comparable to the cost of a ketogenic recipe book. However, with this you not only get the recipes, you also get the additional books on coping with being on a diet, the pitfalls to avoid with the ketogenic diet and how to master the macronutrients.
For a month long challenge, it costs you a little over a dollar a day. This is very affordable and can be life-changing if you use the meal planner to plan out your meals and stick with the ketogenic diet. The ketogenic diet will not only help you lose weight, but it will decrease inflammation in the body. This results in eliminating chronic health conditions.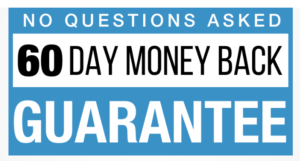 My Final Opinion of 28-Day Keto Challenge
I just finished a month on the ketogenic diet. I feel great. For me, it wasn't the first time I had done the ketogenic diet, so I knew a lot of the information in the 28-day keto challenge. However, there were great recipes that I will continue to incorporate.
I absolutely love that they have ways to handle social situations. I am great at staying on the diet when I'm at home because it is so satiating. However, when I go out, I tend to succumb to temptation. For me, the book on handling social situations was the most valuable.
My results after 28 days on the ketogenic diet are an increase in mental clarity, increase in energy. I did not experience weight loss, but I am at my ideal weight. I have done the ketogenic diet for health improvement and seizure prevention.
28-Day Keto Challenge at a Glance…
Name: 28-Day Keto Challenge
Website: 28dayketo.com
Owners: Ketoresource.org
Price: $37
Overall Scam Rank: 85 out of 100
VERDICT: LEGIT! It is a great product. I recommend it to those people who are getting started with the ketogenic diet and don't know where to begin. It will provide you with the recipes that you need for the whole month.