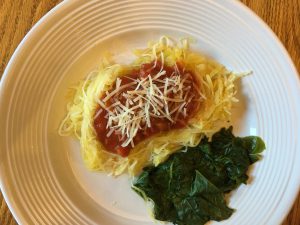 While doing the ketogenic or very low carbohydrate diet, I have been missing pasta, but not so much the pasta, but the sauces that go along with them. I love spaghetti sauce! It is so delicious! I love the combination of tomatoes, olive oil and basil.
Today, I made a low carb spaghetti sauce and put it on top of spaghetti squash. While the spaghetti squash is a healthier option than noodles, it doesn't really replicate the noodle texture all that well. However, it does provide a great base for the sauce, which is where all the flavor in a dish of spaghetti is anyways!
Here is my Low Carb Spaghetti Sauce Recipe that I created today! (I'm all about throwing things in a pot. Every time I make something it is a new recipe.)
Ingredients:
2 large sausages
32 ounces canned tomato sauce
1 medium sized onion
1 clove garlic minced
1 stalk of celery (not the whole bunch, just one piece)
4 mushrooms
1/2 teaspoon Italian seasoning
1/3 teaspoon salt
1/4 cup olive oil
1/4 teaspoon pepper
Directions:
On medium heat, saute the sausages, onion, garlic, celery and mushrooms for 1-2 minutes. Add in the canned spaghetti sauce and seasonings – Italian seasoning, salt, pepper, olive oil.  Let simmer on low for 20 minutes.
Today, I used the Kirkland brand of tomato sauce, which actually did have some added sugar, but the carbohydrate count was pretty low, so it still fit into my macros. I decided to search online for a better option and discovered that Hunt's has a no sugar added canned pasta sauce, which would probably be a great option. It is zero carbohydrates and the added mushrooms, onions and sausage that you add would make it taste great if it doesn't already! [easyazon_image align="right" height="160″ identifier="B005OSRUU6″ locale="US" src="https://images-na.ssl-images-amazon.com/images/I/31KxQ79gFbL._SL160_.jpg" tag="mcurle08-20″ width="137″]The other thing that you may want to purchase is a nice Italian seasoning. [easyazon_image align="left" height="160″ identifier="B001PQREOI" locale="US" src="https://images-na.ssl-images-amazon.com/images/I/51rNfo9Qf5L._SL160_.jpg" tag="mcurle08-20″ width="160″]
Check out my ketogenic chili recipe! For ideas on the best ketogenic snacks click here!