Fall is here and it is time to whip out the crock pot or power pressure cooker and whip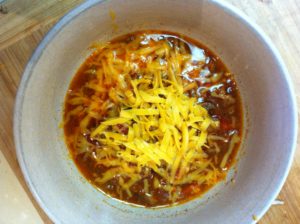 up some comfort meals! Chili is a fall favorite. It goes well with football season and can be very nutritious, but can be very high in carbohydrates. This recipe swaps out the high carbohydrate beans for low carbohydrate vegetables while at the same time retaining the wonderful flavor. You'll love this ketogenic chili recipe! It is easy and simple and makes quite a few servings.
Side note: I am not sure how many servings it makes, probably about 8-10 servings. I fill up my power pressure cooker with vegetables and then enjoy chili meals for about 2-3 days. If you have a family, it will probably be one meal and one meal of leftovers.
Ingredients:
1 medium eggplant
1 cup chopped celery
1/2 cup chopped carrots
1 large chopped onion
3 scallions chopped
5 mushrooms chopped
1 bell pepper chopped
2 cans of diced tomatoes
1 lb. grassfed ground beef
4 tablespoons chili pepper
1 teaspoon sea salt (I tend to season it more after it is cooked. I've made the mistake of over salting before!)
<<Click Here for the Bacon and Butter Cookbook>>
Directions:
Chop the vegetables. In an electric pressure cooker, combine all ingredients. Set it to cook for about 40 minutes. If you are using a slow cooker, set to cook on medium for 2-4 hours. Once it has cooked, allow it to cook for 10 minutes. Serve and enjoy.
Fun low carb toppings for low carbohydrate chili:
grated cheddar cheese
chopped green onions
sour cream and green onions
Avocado slices
Great ketogenic chili side dishes that you can serve:
Tossed salad
Steamed spinach
Steamed broccoli and cauliflower
Sauteed zucchini, mushroom and onions
For more ideas on how to make quick and easy ketogenic meals click here!