[easyazon_image align="left" height="110″ identifier="B00N2BW9BW" locale="US" src="https://getfitandhealthyathome.com//wp-content/uploads/2017/03/51I0buaf8LL.SL110.jpg" tag="mcurle08-20″ width="108″]  Getting fit is actually pretty easy when you stick with a plan. Sometimes, having a fancy electronic device that tracks your accomplishments is a worthwhile purchase, especially if you are trying to get fit at home without a trainer or are just lazy when it comes to tracking your progress.  A Fitbit heart rate monitor is a useful tool when you are trying to track your progress.
One of the features that I love about my fitbit heart rate monitor is that it lets me know how long I slept.  It also tracks my heart rate and my footsteps.  If I was good at keeping track of what I ate, I could enter that into their website and know how many calories I burned and whether or not I was on track to reach my goal.  Ultimately, I'm mostly interested in increasing my step count, lowering my heart rate and ensuring that my sleep is sound.  [easyazon_cta align="none" identifier="B00N2BW9BW" key="small-light" locale="US" tag="mcurle08-20″]
When I first got the fitbit as a gift at Christmas, I wore it nonstop for about a month.  Unfortunately, in order to get the information synced to your computer, you either need to remember to put in a toggle and upload it or have the bluetooth enabled on your computer. I am not tech savvy and somehow disabled my computer's bluetooth.  So, I took the darn thing off and forgot about it.  However, as my jeans started to get tighter, I realized that it was time to put it back on a get committed to get fit!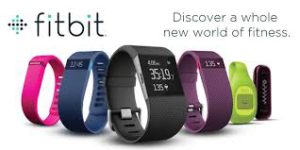 Pros:
It is lightweight and easy to wear.  The fitbit tracks multiple aspects of your health throughout the day.  You can connect with your friends through the fitbit website and challenge them to fitness competitions.  This can be fun or somewhat overwhelming.
Cons:
Your skin will sweat under the rubber.  The product description says that it is sweat proof, but that means that your sweat won't harm the product.  You may still get annoyed by the sweat rubbing against the rubber.  You have to remember to put it on.  In order to get the information in chart form and see your progress over time, you have to remember to log into the fitness app online.
The Features of the Charge HR Fitbit:
Charge HR syncs automatically and wirelessly to tablets, computers and 150+ leading iOS, Android and Windows smartphones using Bluetooth 4.0 wireless technology. Syncing to computers requires Internet connection and USB port. Syncing to mobile devices requires Bluetooth and Internet connection. Syncing range: 20 feet

Water Resistance: Charge HR is sweat, rain and splash proof. However, the device is not swim proof or showerproof. With any wearable device, it's best for your skin if the band stays dry and clean. Battery life: lasts up to 5 days. Radio transceiver: Bluetooth 4.0

The charge time is one to two hours.  It is recommended that you charge your device every few days.

Syncs with Windows Vista and later, Mac OS X 10.6 and up, iPhone 4S and later, iPad 3 gen. and later, and leading Android and Windows devices

Get continuous, automatic, wrist-based heart rate and simplified heart rate zones

Track workouts, heart rate, distance, calories burned, floors climbed, active minutes and steps

It detects when you are asleep 
There is an alarm to wake you if you want.  I personally don't like this feature and don't use it.
The fitbit can't motivate you to exercise.  However, it helps to keep you accountable and on track. [easyazon_image align="left" height="333″ identifier="B00N2BW9BW" locale="US" src="https://getfitandhealthyathome.com//wp-content/uploads/2017/03/41rPhJCiz8L.jpg" tag="mcurle08-20″ width="500″]For example, my goal is 10,000 steps per day. This is a reasonable goal to start with.  Right now, it is 9:00 am and I'm at 3,567 steps. Another goal of mine is to drink 80 ounces of water per day.  I have already drank a sixteen ounce bottle of water and have another one by my side to drink. Entering that information into the fitbit app helps me to stay on track and meet my goals. I love it! I love the feature of competing with your friends on the website, because that can make fitness more fun.