FILA 8 Pound Hand Weight Review[easyazon_infoblock align="right" cart="n" identifier="B01D4JM6DM" locale="US" tag="mcurle08-20″]
Name: FILA Accessories Neoprene Hand Weight, 8 lb

Website: Amazon.com
Price: 11.99
Owners: FILA
Overall Rank: 80 out of 100
FILA 8 Pound Hand Weight, Product Overview
This is one 8 pound hand weight. Make sure that you take note of that! Most people need two hand weights, but these are sold individually! I made that mistake of not reading it correctly. I ordered one instead of two. So, I will be ordering another one shortly! Lesson learned: Pay attention to the descriptions and read the reviews.
FILA's weights are covered with neoprene for your comfort. The neoprene exterior provides for a solid grip and is easy on your floors. The hexagonal shape of the weights keeps the weights from rolling around when you aren't using them.
These are great weights to strengthen and tone targeted muscle groups. They are very functional. The eight pound weights are great for multiple reps and can easily be added to cardio workouts for added intensity.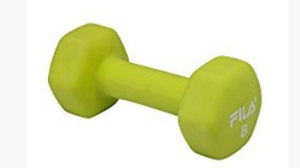 The Good & the Bad
The Good:
PRO #1: I love the hexagonal shape. It keeps them from rolling around on my floor. I can easily store them.
PRO #2: I'm a huge fan of the neoprene. It makes the weights so much more comfortable to hold when you are doing a workout that uses them off and on.
PRO #3: The 8 pound weight is just challenging enough that you can add them in when you are doing some cardiovascular workouts such as jumping on a trampoline or during a session on the treadmill.
The Bad:
CON #1: Eight pounds will not build a lot of muscle. For most people, it isn't challenging unless you are doing a lot of repetitions.
CON #2: This is only one dumbbell. You'll have to order two. They do not come in a set!
Who are the FILA 8 pound dumbbells for?
These are great for people who are looking to tone up their arms. This is ideal for women who want to get rid of the bat wings that happen after the age of forty. This is for the people who aren't into heavy lifting. Eight pounds won't get you huge muscles, but they will strengthen up your arms. Activities of everyday living will become easier as you add eight pound weights to your treadmill routine or your BeachBody exercises.
These are ideal for people who like to do light weights at home with exercise DVDs.
[easyazon_image align="right" cart="n" height="500″ identifier="B01D4JM6DM" locale="US" src="https://images-na.ssl-images-amazon.com/images/I/31KMH0Am%2BcL.jpg" tag="mcurle08-20″ width="500″]
FILA 8 Pound Hand Weights Tools & Training
No tools and training comes with the FILA 8 lb. hand weights. You can find many online exercise DVDs that need to use hand weights and these are ideal for that.
FILA 8 lb. Dumbbells Price
As I mentioned earlier, these dumbbells come individually. Therefore, you will need to buy two. They are not a set. It was about $12 for one. I thought it was such a great deal and less expensive the Amazon Basic Dumbbells, but that is not the case. Amazon Basics typically has the lowest cost. However, Amazon Basics was out of the 8 lb. weight set when I ordered these. It is slightly more expensive than that set of weights once you purchase the second one, but it is reasonable. You'll end up paying $25 for weights, which is a dollar more than the Amazon Basics set. Because they are a necessary part of a workout program, you will use them and get your money's worth.
My Final Opinion of FILA 8 lb. Hand Weights
I love the hexagonal shape and the neoprene that these weights are made from. That is actually pretty standard in this industry. It makes it easy to use these weights and not have them roll away during your workout. This is a good version of a pretty basic product.
I love that they are lightweight and easy to pick up and use with my workout DVDs. I even like the bright color of the neoprene. The eight pound weight comes in lime. (It may come in other colors, but when I ordered, it was only offering the 8 lb. weight in lime.)
Overall, I'm happy with my purchase. Weights are an important aspect of working out. Even though they aren't heavy, there are many exercises that you can use them with and challenge yourself. These 8 lb. hand weights will tone your arms and increase the intensity of your workout. With the right workout, they will be challenging for you!
FILA 8 lb. Hand Weights at a Glance…[easyazon_infoblock align="right" cart="n" identifier="B01D4JM6DM" locale="US" tag="mcurle08-20″]
Name: FILA 8 lb. Hand Weights
Website: Amazon.com
Owners: FILA
Price: 11.99
Overall Scam Rank: 80 out of 100
VERDICT: LEGIT! This is a decent hand weight. Just remember to order two! You will want to be using both during your fitness routines and as you workout with BeachBody DVDs or if you are just using them on your treadmill.
Comment below, what do you like about your set of hand weights? Are you using them for toning? Do you use them with home DVD workouts? Let me know!