This blog post may seem a little out of place on a fitness website, but I wanted to share with you what I'm doing. I am focusing on changing my minute by minute thoughts to focus more on successful behaviors. I have purchased self-improvement courses in the past and they have been somewhat successful based on whether I have stuck with them or not. Very often, I have given up before the course is over and haven't seen results. Sound familiar? Probably.
Why Train Your Brain For Success
Our thoughts actually dictate our actions. Whether we take action that will help us get to our goals is going to be based on our fears and past efforts. If we had a negative experience or didn't see results right away, it is likely that we won't have success. It is possible that we won't stick with it when we don't see results right away. As someone who is a serial dieter, I can attest to that. I tried a number of diets for a few months here and there and got discouraged when I didn't feel amazing and get my hair to grow back. (For those of you just joining my blog, I lost my hair to an autoimmune condition 7 years ago. I've visited many holistic practitioners and doctors to reverse this condition, but they are clueless. I won't give up though.)
I will be attending the Brain-a-thon with John Assaraf and I'd like to invite you to register and join. It is free to watch. Of course, they will try to up sell you at the end for a product. However, in the past, there have been many great ideas that you can take from the Brain-a-Thon to implement in your life whether you purchase his product.
Learn More About Brain Training From Experts
John Assaraf, New York Times Best Selling Author and founder of NeuroGym, has gathered 7 of the world's top brain science and success experts for…
The ALL N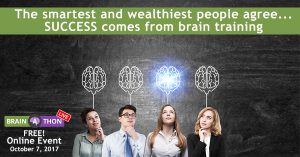 EW 6th Annual LIVE Brain-A-Thon.
And there's a good reason why over 1,000,000 people have attended this free online training event.
John and his team of experts are going to help you remove all the mental and emotional obstacles that are standing in your way of success… so that you can upgrade your brain and upgrade your income.
All you have to do is show up… and you'll learn how the latest brain science can help you get over your limiting beliefs… and help you earn more money than you ever have before.
This live event only takes place once a year.
So make sure you register today for this free online training event.
Spending oneSaturday at the LIVE Brain-A-Thon… could lead you to living a life in financial freedom.
You'll discover more about building wealth in one day than you've learned in your entire life.
If you've ever felt like you were capable of earning more… but felt like something was holding you back… than The 6th Annual LIVE Brain-A-Thon might be the event that changes everything for you.
Will Brain Training Work For You?
It is difficult to tell if you will stick with it long enough to see success. I have found that when I listen to positive affirmations from CDs that I have purchased, my behavior does change. I have an organization affirmation CD. Not only did I find that I was getting more organized when I played it in the house, my family members were starting to pick up after themselves more. It was amazing. They weren't even listening all the time to the affirmations, just hearing them from time to time when I would play them. So, we can train our brains to alter our behaviors. You'll have to put the effort in to press the play button or set aside some time each day to get that training.
You can do it. You can prioritize things in your life in order to set yourself up for success, but it really is up to you!