The ketogenic diet is a very healing and helpful diet. My neighbor used it to eliminate his pre-diabetic condition. For many years, the ketogenic diet was the go-to solution for epilepsy. It has been helping prevent Alzheimer's. The ketogenic diet helps people lose weight. It can also suppress appetites, decreases triglycerides, and helps to control blood sugar levels.
Getting onto the ketogenic diet requires a plan. The ketogenic diet requires you to alter your current level of carbohydrate consumption. You need to learn where your carbohydrates are coming from, plan to eat foods that will keep you in ketosis and plan to avoid foods that will take you out of ketosis.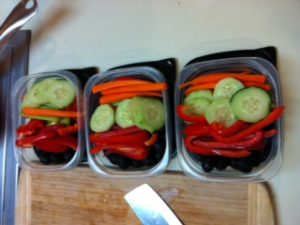 Prepared ketogenic snack containers
My plan to getting on the ketogenic diet starts with eliminating the foods in my house that are high in carbohydrates that tempt me. Any type of sugar, chocolate or sweet treat has to get out of the house when I start ketogenic dieting or I know that I will be unsuccessful.
Eliminate Temptation
Create a ketogenic diet plan menu
Prep meals for the week
Cook 2-3 dishes to have on hand
Prepare one snack to have on hand
Creating the ketogenic diet plan menu can be tough to begin with. I had to check with my diabetic sister to see how she managed a low carbohydrate lifestyle throughout her life. From a young age, she was counting carbohydrates and measuring her blood sugar. She gave me some of the best advice possible. She told me that she would keep the foods that were "free" handy and not worry about counting those. She ate foods with higher carbohydrates sparingly.
So, I focused in on the foods with 0-3 carbohydrates. These are going to be your green vegetables and meat products. Broccoli, spinach and cauliflower became staples at my meals. I cut up celery and spread cream cheese on it for snacks. Olives are low in carbohydrates and satisfy a salty craving, so I added that to my cream cheese and celery at snack time. Planning ketogenic meals becomes much easier when you figure out what you love that fits into the dietary regimen.
Vegetables with higher amounts of carbohydrates can be used sparingly in salads. These types of vegetables include peas, radishes, carrots, onions and tomatoes. They give the salad a bit more interest and flavor, but since you just need a small amount to give you flavor, you aren't going to go overboard with the carbohydrate count.
My ketogenic diet plan looks like this:
Breakfast – eggs or bacon for protein, 1/2 avocado, broccoli and mushrooms sauteed in olive oil
Lunch – salad – salmon or tuna fish, lettuce, peas, carrots, onions, cucumber and lettuce Keep bottled salad dressing to one tablespoon or use olive oil and vinegar with some sea salt to taste. Vary the salad toppings each day for some variety and interest.
Dinner – Hamburgers without a bun topped with sauteed mushrooms and onions, steamed carrots and broccoli or spinach, Tilapia and steamed broccoli and cauliflower, chicken stir fry with broccoli, onions, carrots and mushrooms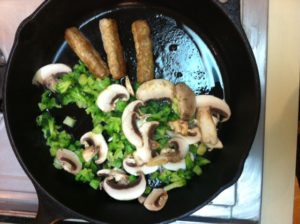 During the week, I rotate my meats. Cooking time for a stirfry is only about 15 minutes. I can make a hamburger and steam some broccoli in 15-20 minutes. Therefore, my ketogenic diet plan and menu are very time efficient. It has also been saving me a ton of money. Prepackaged foods are expensive!
[easyazon_image align="none" height="500″ identifier="1516920872″ locale="US" src="https://getfitandhealthyathome.com//wp-content/uploads/2017/09/51rkW0G3QL.jpg" tag="mcurle08-20″ width="333″]
There are lots of variations on the ketogenic diet meal plans out there! You can find many books on Amazon and discover wonderful recipes to get you into ketosis and keep you there!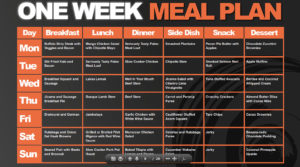 Lunch – salad with deviled eggs