Name: Confidence Power Plus Motorized Treadmill
Website: [easyazon_link identifier="B004TGWUPE" locale="US" tag="mcurle08-20″ cart="n"]Confidence Power Plus Motorized Electric Treadmill Black[/easyazon_link] Amazon – best price
Price: $199.99
Owners: Confidence Fitness Brand
Overall Rank: 85 out of 100
Confidence Power Plus Motorized Treadmill, Product Overview
This is an inexpensive motorized treadmill that has folding capabilities. It is lightweight and easy to move. You can easily store the confidence power plus motorized treadmill under a bed, or upright in a closet. The confidence fitness treadmill is the best portable treadmill under $200. The confidence power plus motorized treadmill is lightweight enough that one average adult can move it on their own.
The Good & the Bad
The Good: Cost
PRO #1: At just $199.99, the Confidence Power Plus motorized treadmill is easy to afford and can fit into the average American's home gym budget. It costs less than an annual gym membership and will likely be used more because it is more convenient in your own home.
PRO #2: The confidence power plus motorized treadmill can fold up and be stored away when not in use. However, I don't recommend keeping it stored away. When something is out of sight and out of mind, it often does not get used!
PRO #3: This treadmill has an unusual safety feature that turns itself off after half an hour. It is an excellent way to track how long you have been on your treadmill. It gives you the opportunity to stretch after half an hour and decide to increase or decrease your speed according to your workout. If you accidentally leave the treadmill on, it turns itself off!
The Bad:Narrow, Half hour safety feature
CON #1: The treadmill is narrower than more expensive treadmills. It still has plenty of surface area for walking, but you may not want to jazz up your workout with fancy dance moves from side to side.
CON #2: The safety feature stops you at half an hour. I put this as a pro because it forces you to rest, but it can also be a con as well. Your workout will be stopped for a minute while you restart the machine.
Who is Confidence Power Plus Treadmill For?
This product is ideal for the budget conscious first time treadmill users. It is great for someone looking to incorporate an inexpensive treadmill into their treadmill desk workstation. This treadmill is for the user who is building up their stamina on the treadmill. It is suitable for users up to 250 pounds. This may not be good for the very overweight individual, but awesome for those who are trying to lose a few pounds. 600W power motor.
Confidence Power Plus Tools & Training
The confidence power plus treadmill comes with an owners manual. The confidence power plus treadmill comes with a year long warranty.
Confidence Power Plus Treadmill Price
Coming in at just under $200, this is one of the most inexpensive new treadmills that you can buy. (You may be able to pick up some used treadmills from yard sales or craigslist for less.)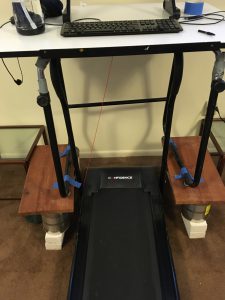 My Final Opinion of Confidence Power Plus Treadmill
I love my confidence power plus treadmill. I love that I didn't spend a fortune on it and it is meeting the fitness needs that I have at my treadmill desk right now. In the future, I may spend a bit more to get a sleeker look, but right now this meets my needs. I love that it is portable and easy to move from one room to the next. I store it out of sight when my nephews come to visit and the office gets turned into a guest room for them![easyazon_infoblock align="right" cart="n" identifier="B004TGWUPE" locale="US" tag="mcurle08-20″]
Confidence Power Plus Treadmill at a Glance…
Name: Confidence Power Plus Treadmill
Website: [easyazon_link identifier="B004TGWUPE" locale="US" tag="mcurle08-20″ cart="n"]Amazon.com[/easyazon_link]
Owners: Confidence Fitness
Price: 199.99
Overall Scam Rank: 85 out of 100
VERDICT: LEGIT! I love using my confidence fitness treadmill.