#1 Treadmill Desk Workstation
This is the grand-daddy of treadmill desk workstations. It is the best of both worlds because not only do you have the option to work and walk at the same time, when you tire of walking after a few hours, you can sit down and work at the tandem desk. The compact treadmill measures 68.5″ x 28.5″ (L x W) with a spacious desktop area of 47″ x 32″ (W x D)
The console readouts will include the amount of calories burned, time, step count, the distance traveled and the belt speed.
There is speed range from half a mile to four miles per hour. The desk also includes bluetooth to support the Lifespan apps.
One of the best benefits of a Lifespan treadmill is that it uses 6 independent compression shocks in order to hold the walking deck over the frame and ensure shock absorption as your foot hits the belt. For people walking over 10,000 steps per day, a good deck suspension enables you to walk longer with less fatigue and reducing the chances of injury. An additional benefit to an isolated walking deck is a quieter walking experience.
This is a great workstation. The TR1200-DT7 Treadmill Desk is a combination of the most popular Lifespan electronic adjusting desk with the most popular Lifespan treadmill. It provides you with everything that you will need to walk and work at the same time. One touch height adjustment is perfect for multiple users and is recommended for open spaces, shared areas or conference rooms. A benefit of having one touch height adjustment for individuals is the ability to lower it to a seated position. The console provides you with all the information that you need regarding your activity level, the number of steps, walking time, calories, distance and speed that you walked.

#2 Treadmill Desk Workstation – GO PLUS Treadmill Desk Workstation
This is a very budget friendly workstation that is great for the home or office! It features a large surface area to enable you to work while you walk!
#3 Treadmill Desk Workstation – The Conquer Treadmill Desk
The Conquer Treadmill Desk Workstation has a lower price tag than the Lifespan treadmill desk line, but you will still get a lot of mileage out of it.
The Conquer Treadmill Desk features:
Features:
Extra Large Desk Workspace Area Measures 47.5″-27.5″
Quiet Operation!
Variable Treadmill Speeds from 0.6-4.0 MPH
Easy Push Button Electronic Height Adjusment for Desk
Desk height range: 35.5″-52.5″
Walking surface: 48″ x 16″
With an extra large desktop area, you have enough room for two monitors for people who need to use multiple monitors.  Additionally, the electronic adjustment feature will allow you to move your treadmill desk workstation to a seated desk when you tire of walking.  It's console provides all the information that you may require to monitor your fitness levels – calories burned, walking time, distance and speed.  
#4 Treadmill Desk workstation – Nordic Track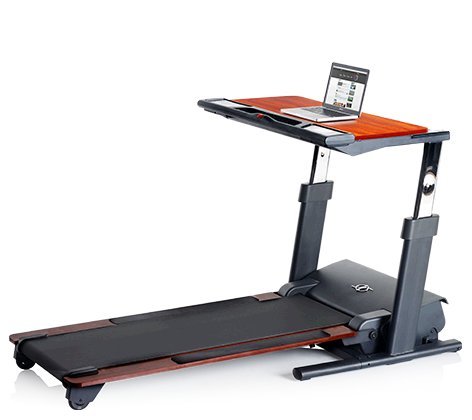 The Nordic Track Treadmill desk is a great treadmill desk at an amazing price, but be aware of your height.  Customer reviews indicate that it is not very good for people over six feet tall.  You can remedy the height of the monitor and keyboard by using stands.  It would be wiser to get the proper height desk, although you may want a monitor stand anyway to have the monitor eye level.
This treadmill desk does have the unique feature of being able to fold up and become a regular desk.  However, you aren't buying a treadmill desk to not use the treadmill.  It is an interesting feature though!  

The Nordic Track desk features include the following:
Oversized desktop work surface, adjusts at a touch, desktop display and controls

Personalize your exercise, Space Saver design, accommodates up the 350 lbs

3.0 chp durx commercial plus motor, 20″ x 55″ tread belt, reflex cushion deck

Welded steel frame, 0-10 MPH speed, 0-10% incline, magnetic safety key, Lifetime frame & motor Warranty, 1-Year parts & Labor Warranty

IFit compatible, requires iFit wireless module which is sold separately. Buy an iFit wireless module and get a One-year iFit subscription for free
#5 Treadmill Desk Workstation – Exerpeutic 200
This treadmill desk workstation that you can purchase through Amazon ranks #5 because it has a smaller desk size and is meant for shorter people.  If you are under 5'9″ and looking for a treadmill desk to work at, this desk height may be too tall for you.  The height from the treadmill belt to the desk is four feet and this desk is not adjustable.  Whip out your tape measure before ordering this desk because you want to make sure that your work surface is about the right height.  
The dimensions and features of this treadmill desk workstation:
Extra long safety handles are 18-Inch long, more than 2 X the length of other typical treadmill handles.

Tested up to 400-Pounds of user weight, built on a heavy duty reinforced frame.

Motorized Incline adjustment range from 0 Percent to 15 Percent.

Desk Top size is 4-Feet (48-Inch) L x 2-Feet (24-Inch) W at the widest sections

Please note the distance from the treadmill belt to the desk top is 4-Feet
The customer reviews for this treadmill are mixed.  Some complained about the stability of the desk because it is attached to the treadmill.
Pros:
Large desktop area, folds up when not in use but it's rare I fold it up completely.
Customer service is excellent and promptly shipped repair parts
They've moved the cup holders closer to you; this is better than in the image where they are beyond reach.