I have a new favorite ketogenic meal. It is fun and festive. It is taco salad! Taco salad has tons of exciting flavors and there are a number of different healthy fats that you can easily incorporate into the salad. While my taco salad simply omits the chips or tortilla, some people have added a crunch to their salads with pork rinds. I have not tried them yet, so I don't recommend it, but I just wanted to throw that idea out there!
Here's my simple recipe for taco salad:
1 head of lettuce
1 tomato, chopped
1 avocado, chopped (you could also swap this for guacamole if you have a great recipe for that)
4-5 green onions, chopped
1 cucumber, sliced (not a typical ingredient, but usually one that I have handy)
1 can of olives, chopped
1 lb. of seasoned ground beef
1/2 cup of shredded cheddar cheese
1/2 cup of sour cream
1/2 cup of salsa
cilantro (Optional. I know this is a seasoning that many people enjoy, but I'm one of those people who thinks it tastes like soap! To each his own! )
Directions:
Over medium heat, break up the ground beef into small, bite sized pieces. Season one pound of ground beef with two tablespoons of taco seasoning. (If you like convenience, you can use the seasoning packets from the store. If you're like me and forget to buy them, mix up your own with the spices below!)
Chop up the lettuce and other vegetables and mix together. Top the lettuce with ground beef, shredded cheddar cheese, salsa and a dollop of sour cream. Voila! A fun, festive, ketogenic salad!
Another alternative if you are living with picky eaters is to chop up the lettuce and veggies and let everyone dish out their own toppings salad bar style. This was a favorite way to serve taco salad in my family growing up because there were six of us with our own specific tastes!
Taco Seasoning:
1 Tbsp chili powder
1 tsp paprika
1 tsp cumin
1/4 tsp cayenne pepper
1/2 tsp oregano
1/2 tsp salt
1/2 tsp black pepper (roughly 15 cranks in a pepper grinder)
Mix together. Seasons about 1 lb. of ground beef.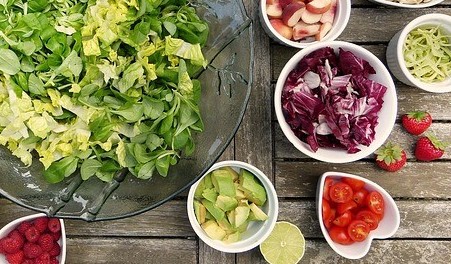 <<Click Here for a FREE Keto Cookbook>>