If you are new to the ketogenic diet, you may feel like you can't afford it. Coconut flours, almond flours, avocados and bacon! Yikes! It can seem expensive. Let me reassure that you can do the ketogenic diet on a budget. In fact, you may find that the ketogenic diet saves you money because you aren't eating nearly as much as you used to on the standard American diet.
Yes, meat is more expensive than pasta. It is more expensive than the cheap filler foods that you are accustomed to eating. However, it fills you up. It keeps you fueled better than cheap carbohydrates.
Shop the Sales and Then Look for Recipes
When you start a diet, it is common to look up recipes that you can have on the diet and then go out and buy all the ingredients for that recipe. I don't recommend doing this. It stifles your creativity and gets you to rely too heavily on someone else's recipe. To stay on a budget, you need to be flexible. That means adjusting your weekly recipes to what is in season and what is on sale.
Keep in mind the things that will ultimately fit into a ketogenic diet are going to be the following:
Meat
Low carbohydrate vegetables
Healthy Fats
You can look through the circulars to see what is going to be on sale that week and make a meal plan based off of what is least expensive. There will likely be something on sale in each of the categories above. Most likely, you'll be able to find some ketogenic meal ideas just by looking at the pages of the circular. Many stores have online circulars, so you don't even need to buy the paper to find out what will be on sale now.
The Meat Aisle
The ketogenic diet focuses on moderate amounts of protein. The protein and fats keep you fueled. When you enter the meat aisle, your plan of attack should be to look for the sale stickers. If it isn't on sale, don't buy it! Grocery stores typically have a few older cuts of meat that they will mark down to move quickly. These are still safe to eat, but you may still want to consume them within the next few days.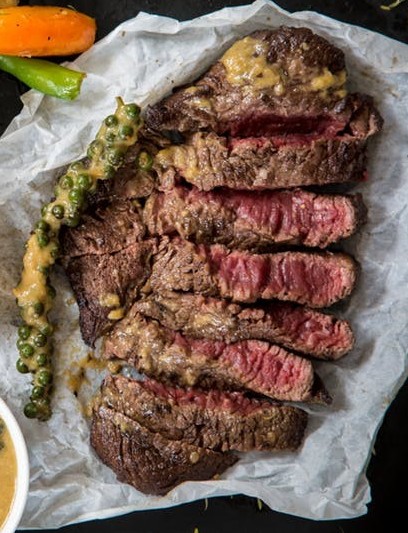 Some cuts of meat are often on sale. You will often find that chicken drumsticks and chicken wings are some of the cheapest cuts of meat in the store. These can be covered in butter and baking power to create a crispy baked chicken wing or leg. Another great way to stretch your meat dollar with chicken wings and chicken thighs is to master the art of chicken soup. You can either buy a whole chicken and break it down or you can use wings and thighs in your soup recipe.
The holidays provide inexpensive meat options. Around the Fourth of July, hamburgers and hot dogs will be marked down. Turkeys will be extremely inexpensive around Thanksgiving and Christmas. Look for good deals on corned beef during St. Patrick's Day. Hams will be a steal the week prior to Easter. During the holidays, you may want to pick up some extra meat that is on sale and freeze it for later.
Inexpensive Cuts of Beef:
Chuck roast
Tri-tip
Flat-iron steak
Rump roast
Skirt steak
These cuts of beef can be a bit tougher, but cooking them in a pressure cooker can make them very tender and tasty. Don't be afraid of the cheaper cuts of meat. Simply look up recipes for them once you have purchased them. Lots of people online are sharing great ketogenic recipes!
The Keto Veggies
Most of the ketogenic vegetables that are easiest to fit into a ketogenic eating plan are going to be the leafy green variety. This is going to include lettuce, spinach, and kale. You will also be able to eat cruciferous vegetables on the ketogenic diet as well. Broccoli, cauliflower and cabbage are easy to fit into the ketogenic diet.
One great way to cut your veggie bill is to buy frozen. This can save you time in meal preparation. Vegetables don't get marked down much unless they have too many and need to move them. Frozen vegetables sometimes have coupons on them. The best deals for frozen vegetables come with the generic store brands. However, sometimes you can find coupons for the brand name frozen vegetables.
Buying frozen veggies gives you the flexibility to use them now or later. You can buy them on sale and then save them for a week when the fresh vegetables don't look so hot.
Eat seasonal vegetables. These vegetables will be on sale when they are in season. For example, broccoli and cauliflower are cold weather crops. They will be in season in the spring and fall. Summer squash is going to be less expensive in the summer.
Get Your Fats!
The ketogenic diet is high in fats. The whole goal of the ketogenic diet is to switch your body to becoming fat adapted and running on fats. What are you eating for fats? How can you save money on fats?
Butter
Olive Oil
Coconut Oil
Avocados
Cheese
Heavy Whipping Cream
These are the fats that are the most common on the ketogenic diet. You may face some sticker shock when purchasing coconut oil from the grocery store. However, you can buy it in bulk on Amazon for a reasonable price. Watch your circular and pay attention to when they have sales on dairy. You can freeze dairy. Unless you have a coupon, brand name dairy is going to be the least expensive.
Search for coupons for dairy. The coupons for butter, cheese, sour cream and heavy whipping cream are easy to find. You can also combine those savings with store mark downs and sales.
Buy in bulk. When purchasing fats and dairy, it is less expensive to purchase in bulk. A large container of plain Greek yogurt is going to be less expensive than the individual servings. The cost of olive oil will be less per pound if you are buying a larger size.
Budget Friendly Keto Meal Ideas
Chicken salad
Egg salad