Well, the Hair N' Heal program by Alopecia Angel was not the right fit for me. It started out with an introduction to the AIP diet, which I personally had done before numerous times. This may have put a bit of stress on my body as I started detoxing from the Christmas junk food that I had eaten, but it wasn't terrible. In fact, it was easier than some of the other elimination diets that I had been on. 
Benefits of the Hair N' Heal Program
I think the program was somewhat beneficial to push me to take action. It helped me review some of the root causes of alopecia universalis and address them. I took action to clean out my pantry and purchased some glass containers to replace the plastic lunch containers that I currently had. These should last longer and be more environmentally friendly. 
I was able to interact with a few other people who had alopecia areata during a couple of video chats during the program. This can help you feel less socially isolated by the condition. Although, I do have a few friends who have alopecia universalis and the people in the group were struggling mainly with a milder areata version. 
I was able to learn about some of the supplements that could potentially benefit a person with an autoimmune condition. 
My reactions to the interventions
During the first week, I noticed that I was having some histamine intolerance symptoms to bone broth. I found this to be surprising but was grateful to recognize that it was a histamine reaction. I could tolerate a little bit of bone broth, but when it sat for a few days and I continued to consume it, my lips would swell up. I noticed it the first week and then tried bone broth again a few weeks later when I would have supposedly healed a bit. 
Unfortunately, after about a month, I had a seizure. I had hoped that the supplements would prevent the seizures, but they did not. I think the combination of supplements and the dosing was just too much. It also may not have addressed the underlying issue that was triggering my seizures. (Even doctors don't really know what that is, but I suspect a hormone imbalance.)
I kept up with the program despite having a seizure because I rebounded from the seizure well. I rationalized that perhaps I was getting better and it was a Herxheimer reaction. I had it in a safe place and almost couldn't tell.
 Seizures
Constipation
Anxiety
Cold flashes
Visual disturbances
The Before Picture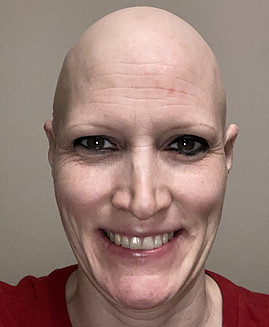 January 1, 2022 – The skin does look a bit splotchy, but that tends to quickly clear up after I eliminate junk food. I had eaten some cookies and cakes over the Christmas and New Year's celebrations. 
The AFTER Images
As you can see, there is no regrowth as was marketed to the program participants. My face looks a little clearer in the after photo, but I pretty much ditched the diet last week because I didn't know if it was the cause of some of the scary cold flashes that I was having. 
February 26, 2022 No hair growth on the top of the head.
Do I recommend the Hair N' Heal program? 
Not at all. I signed up for it believing that she could help me identify my blind spots. What happened instead was she told me to join a program for people with epilepsy first. Um…I've already done that. I've visited numerous doctors and holistic practitioners. 
I believe her blindspot is that with alopecia, she may have her hair fall out and the diet she currently uses may simply cease to work. I also believe that one of the biggest downsides of the program is that the dosing relies only on the symptoms. When you are going through perimenopause, some of these symptoms are common and sporadic anyway. It is hard to determine if you are improving or getting worse.